UNIVERSAL SEARCH LOOP
In contrast to the standard 1m coil, the Universal Search Loop for the PULSE STAR II comes without plastic tubes. The loop has a circumference of 8 meters (26ft). This search loop is very versatile, but does not offer the advantage of the standard 1m coil of being ready to use immediately.
In return, it has the following features:
Very small, light and unobstrusive.
Construction of different coil sizes and shapes possible.
Compensation of interferences caused by strong external magnetic fields (power lines etc.) possible.
To operate the Universal Search Loop, a frame has to be built up. This is particularly easy by using ordinary polypropylen water pipes with appropriating sleeves and corners. Moreover, such a frame can be dismantled and reassembled quickly. Next, the loop´s cable must be fixed on the frame by using plastic clips, or possibly tape or straps (no wire!). Use about three fixing points per meter (one per foot). The cable should be tight and any surplus should be folded up and also be fixed to the frame. Simple frame constructions made of wood or bamboos can also be used as long as they contain no metallic parts like nails. However, small screws made of stainless steel will not be detected and may be used.
Uncompensated Search Coil with square or long retangular frames
When setting up a square search coil, either a 1m x 1m (40" x 40") or a 2m x 2m (80" x80") frame is required. In case of the smaller (1m x 1m) frame, the loop´s cable is fixed in two turns on the frame. This search coil already detects objects of 10cm (4") size very well, medium size containers can be detected in depths of about 2 meters (80").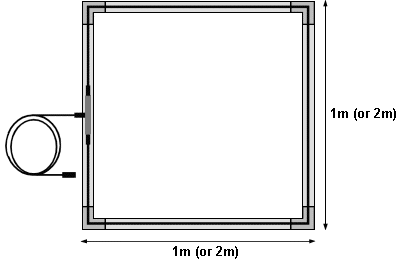 The 2m x 2m search coil (1 turn) allows large areas to be searched more quickly. Additionally, the detection depth for larger objects (30cm / 12" and above) increases.
Apart from square shaped frames it is also possible to choose other rectengular shapes as long as the total circumfence is 8 meters, e. g. 1,5m x 2,5m or 1m x 3m. These oblong search coils cover wider lanes and can, therefore, increase the search speed. However, square shaped coil ensure maximum detection depth.
Consider that large coils are more sensitive to interference, caused for example by magnetic fields of power lines. (In this case the ticking noise of the PULSE STAR II may go up and down in a rhythmic way, so that searching may even become impossible. Under such conditions, a compensated search coil should be used.) Also, the metal discrimination feature is not optimized for larger search coils so that false indications may occur.
ATTENTION: Do not use frames smaller than 0,5m x 0,5m (i. e. 4 turns of the loop´s cable) as under such conditions the PULSE STAR II may fail to operate correctly!
CAUTION! IMPORTANT! Do not turn on the PULSE STAR II with connected Universal Search Loop while the loop´s cable is not fixed on a suitable frame, but loose or folded up. This may destroy the built-in fuse of the PULSE STAR II electronics.
Compensated Search Coil with 1m x 2m frame
This search coil requires a 1m x 2m frame with an additional middle connection, deviding it in two equal sections of 1m x 1m each. The loop´s cable has to be fixed on this frame in a way so that it forms an "eight". This special arrangement almost completely compensates interference from external magnetic fields. It also helps to reduce effects caused by magnetic soils as long as the iron concentration of the soil is constant and the surface is quite even.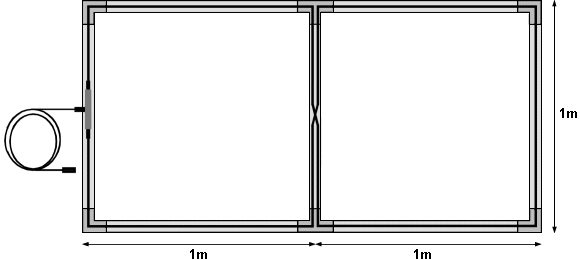 The disadvantage of the compensated search coil is its reduced sensitivity since the two sections produce magnetic fields of opposite polarity which partially neutralize each other. Moreover, this search coil has two sensitive spots and one insensitive. Each of the two coil sections form the sensitive areas, while between them the sensitivity declines to zero.
For this reason, this search coil should not be moved with its wide side over the search area, but with its narrow side. If in the first case the coil passes a hidden metallic object exactly with its middle, this object may be ignored!
It is advisable to test this search coil before actual using it. Place the coil on the ground and move a metallic object (at least 10cm / 4" large) over the areas described above.
Searching in water
For searching in shallow water (salt or fresh water up to several meters deep), the Universal Search Loop can be fixed along the border of a rubber dinghy. The connection to the PULSE STAR II electronics is made by using a waterproof extension cable (available in 5m, 10m or 30m). Do not use this extension to pull the dinghy! Use an additional rope for this purpose and fix the extension cable on the rope. This way the dinghy can be pulled and the extension cable is protected against hanging down and against breaking. Keep enough distance (several meters) between the dinghy and pulling boat so that no metallic parts of the latter can cause false detection signals. Needless to say, that for the same reason the rubber dinghy must be free of any metallic parts.
Design, specifications and availability subject to change without notice.
---